The month of October has come to an end and with it so has my month-long viewing of silent movies. Overall, I have to say that I was surprised just how much I enjoyed this month. As I said, going in I had a very limited experience with silent films. My main exposure had come from Charlie Chaplin and Buster Keaton.  I had never seen silent dramas or even other comedies.  I knew the names of people like Lillian Gish and Louise Brooks but I had never seen them on film.  And I have to admit that I probably was suffering under the delusion of several common myths about silent films.  Well, this month changed all that for me.  Here is some of what I learned.
Frame Rate and Silent Films – Going in I had no idea that many silent films were shown at incorrect, or sound film, frame rates.  This means that the reason people in silent films used to look jumpy and twitchy was because the film was being played at too high a rate of speed.  It would be like watching a movie on fast forward the whole time.
Women in Silent Films – Women were kind of awesome during the time of silent films.  Not only were they directors, writers, and editors, they were also actors playing roles that allowed them to be smart, strong, and funny.  Of course you still can find examples of the weepy damsel in distress but I was pleasantly surprised just how many of these films allowed women to be just as tough as the men.
Colleen Moore and Lon Chaney – No this is not Hollywood's newest power couple.  This was my first time seeing either of these actors in any film and I was hooked!  Colleen Moore is a fabulous comedienne and from the brief bit that I have read, a smart and capable lady in her own life.  When people think of dark haired silent film actresses with a bob most will think of Louise Brooks but I will think of Colleen Moore and her dance in ELLA CINDERS.  As for Lon Chaney…man oh, man.  I am STILL not recovered from watching THE PENALTY.  That man is amazing.
Silent Films and Your Brain – This is something that I realized over the course of the month and I feel like it is important.  Silent films require your brain.  They require your attention.  We've all done it, started watching a movie on TCM or on a DVD and then done something else.  We've checked our phones, our email, our Facebook or Twitter.  We've gone into the kitchen to get a snack or check on dinner.  All the while we are keeping half an ear out for the dialogue of the film we are "watching" in order to keep tabs on what is going on.  But with silent films you can't do that, if you aren't paying attention you miss dialogue and plot.  You miss the film.  And it was an adjustment at first, the urge to check stuff is hard to resist, but after a time I found that not only was I able to pay attention without wandering off but it was also nice to do so.  These days we are given so many options for input that we often split our attention twenty times or more without realizing it, and often to our deficit.  Watching silent films was a respite from that and it felt nice to finally block everything else out and just watch the movie.  It is a habit that I am going to strive to carry over into my daily life.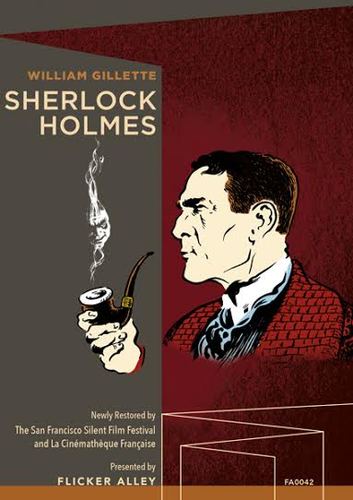 Sherlock Holmes and Twitter – Flicker Alley recently organized a live tweet during the TCM premiere of the 1916 Sherlock Holmes starring William Gillette.  Not only was the film enjoyable but the experience of watching a newly discovered silent film with a community of classic film lovers was even better.  I hope that Flicker Alley and TCM collaborate again in the future!
My month of silent films was really enjoyable and I can say that I think I have become a silent film junkie.  I'm almost sad to leave the world of strictly silents.  But never fear!  I will now be making a point to watch more silent films, along with my talkies, so you will see more posts on the blog for sure!
Other Things of Interest – I have just started reading Swanson on Swanson written by (you guessed it) Gloria Swanson.  I am only about a chapter and a half in but really enjoying it so far.  I am looking forward to learning more about Gloria Swanson as when I think of her now my first thought is SUNSET BOULEVARD.  My Dad sent me this article from the Wall Street Journal about why we keep physical copies of media in the age of the cloud.  This was an interesting read to me as I am the sort of person who will read an article online or watch a movie on my iPad, but still prefer print books and DVDs (and Blu Rays).  Also, if you are looking for an introduction to silent films, Fritzi of Movies Silently is running a series of articles providing just that.
Favorite Film Discovery of the Month – This was tough but I would have to say THE PENALTY with Lon Chaney.  While I saw a lot of great films this month this is the one that has stuck with me the longest.  I wasn't sure what to expect when the film started but by the time my husband came and found me at the halfway point I was totally hooked.  I think my exact words to him were, "This film is CRAZY!  You have to see it!".
---
That was my month of October!  How was yours?  Any new discoveries?